As the shop is in transition, you can email Mike directly at mikemoore025308@gmail.com to set up coaching. He will continue to offer lessons and can meet a different bowling centers.
The best athletes get coached
Working with an experienced coach is the most effective way to get results. Whether you're brand new to the sport or already competing at a high level, we can help.
Learning is personal
Every bowler is as unique as a fingerprint. We customize our coaching to your learning preferences and goals: utilizing video, discussing the 'why' behind our suggestions, and making sure you're comfortable with each step of the process. We have helped hundreds of different bowlers establish sound fundamentals, prepare for competition, or solve problems in as little as one session or on an ongoing basis. We know that great coaches need to be great communicators.
Bowling has changed more in the last 10 years than in the 40 years prior
Are you up-to-date on the latest techniques and strategies? We are. We spend our days and nights discussing the sport with a diverse group of bowlers, participate in continuing education on the latest technology and innovations, and regularly work to improve our own game with the help of great coaches. We've learned how to excel from the Kegel Training Center – widely considered the best resource for bowling coaching in the world - and our own experience on the PBA tour.
Ten Hour Package (2 Free!)

Maximize your growth with our best value package: 10 hours for the price of 8!

One-on-one sessions that are completely customized to help you reach your goals,
with video analysis and email support
Five Hour Package (1 free!)
Ideal program to develop sound fundamentals or problem solve across many areas
Long-term relationship between bowler and coach accelerates growth
Work deeply on one opportunity or tackle a few things at once

Recommended as a way to try coaching without a longer commitment
Recommended for focused problem solving or progress check-ins

General Session Info:
Sessions take place at Colonial Lanes (please speak to Mike directly if you're looking to work at another location)
Lane and shoe rental fees are included
Time can be shared by multiple bowlers
Equipment and fit evaluation are always available
Payment is due at the time of the session via cash, check, or PayPal
Cancellations require 24 hours notice
Why choose Mike as your Coach?
25 years bowling, 5 years coaching
Has coached over 100 different bowlers
USBC Bronze Certified Coach (pursuing Silver Certification)
Experience working with all levels
Coached by the best in the world at the Kegel Training Center
Five regional PBA Titles
State record for highest four game series: 1179
58 sanctioned 300 games, including one PBA
42 sanctioned 800 series, including one 802 at USBC Nationals Tournament
Enjoys bowling, fishing, darts, pool, good food, craft beer, and seeing people succeed
Book online, stop in, or call to set up your first session!
Why choose Dave as your Coach?
40 years bowling, 10 years coaching
Has coached over 100 different bowlers
USBC Bronze level trained
15 sanctioned 300s
1 sanctioned 800
Enjoys bowling, sports cars, golf, dogs, and laughing
Please stop in or call to inquire about working with Dave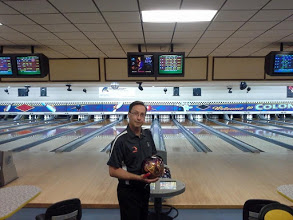 We've coached hundreds of bowlers!
Here are just a few of our success stories:
Meet Robert "Robbie" Frank Mitchell
Watch Robbie's before and after videos to see the difference. A year ago, Robert Frank Mitchell was averaging in the 160s. He started taking lessons with Mike Moore, practicing regularly and building out his arsenal of Motiv balls. Robbie is now averaging 205, rolled his first 300 last summer, and shot his highest sanctioned series on 3/14/18 with an impressive 768 (236, 263, & 269). Congratulations, Robbie! We look forward to celebrating your continued success.
Mike began working with Leanne when she took up bowling at the age of 11. As a result of her hard work, practice, and lessons over the years, Leanne became one of the best bowlers in Florida. Here are just some of the highlights from her impressive career so far:
Two-time State Champion: FHSAA Single Girl's Division 2014 & 2016
2015: led her Christian Circle Academy team to win the FHSAA title
2016: back to back 300s for her first 800 series
Leanne is now thriving in college and continues to compete at a high level thanks to the excellent support she received from Mike and others!
You can learn more about Leanne's amazing win at states and how Coach Mike helped her prepare here:
Makoto and his coworkers started bowling during their lunch break on Fridays. At the time, he was a true novice to the sport and was happy to even break 100. Makoto realized pretty quickly that it would make financial sense to buy his own shoes and, later, got curious about ball technology. That's when he met Mike. They discussed the benefits of taking some lessons and started working together on a regular basis. They began with the basics of footwork and timing and progressed from there.
In less than a year, Makoto went from consistently shooting less than 100 to being able to break 200. Within two years of working with Mike and practicing regularly, he now averages over 170 in his Wednesday night league and keeps besting his high score (currently 254!).
What our clients are saying...
From Allison Danielsen
After bowling seriously in my youth, I was injured and unable to do it for 15 years. With my doctor's clearance to return, I walked in to Lightning Strikes Pro Shop and met Mike Moore. He was extremely knowledgeable about the sport and made excellent equipment recommendations to get me restarted.
I didn't want to repeat the same mistakes that got me injured in the first place and had some complicated health issues to work around. With ball and lane technology changing drastically over the years, my approach was no longer ideal anyway. I spoke to Mike about coaching after watching him work with another bowler who was returning to the sport. He was tailoring his advice to this person's style and the results were clearly positive.
Since then, I've worked with regularly for over a year and can't recommend the service more highly. Mike has helped me work on my fundamentals from bottom to top (because legs are the most important part of the game!). He's an incredible bowler himself but he takes the results his clients have as seriously as he takes his own: I dare you to watch him as he's observing one of us and not see the investment written all over his face. Mike figured out pretty fast how I like to learn and isn't afraid to push me or make adjustments when something isn't working. We've been able to make changes to my pitch, span, and arsenal as I've grown because he's constantly evaluating my equipment. He can make a seemingly endless number of suggestions thanks to his experience bowling at an elite level, drilling balls for thousands of people, and coaching many others. He knows what works (and almost as important, what doesn't). I've already increased my average in one league by over 20 pins and I've gone from not being able to do this at all to being able to bowl 8 games in one day.
I feel confident that I'll keep getting better with Mike's help. Most importantly, I am optimistic that despite my health concerns, I'll be able to continue to bowl for a long time.